Product Attributes :
◆Support remotely control /wireless control via internet

◆Support mobile/MID/PC,remote control/touch panel control
◆Support storage of 500 devices QRcodes in one gateway

◆Support mesh network,control range is more 50 meters
◆Support multiple device control
◆Support encryption transmission
◆Wiring is simple as normal high bay light
◆Scalable Architecture
◆5 years warranty,Tc70ºc 50000hrs
The control system can provide automatically control for lighting system management.
Wireless control system consists of three parts:
1.control terminal-----remote control/touch pannel/cell phone/MID/PC
2.Zigbee gateway
3.smart high bay lightings-----up to 500pcs,support group/area control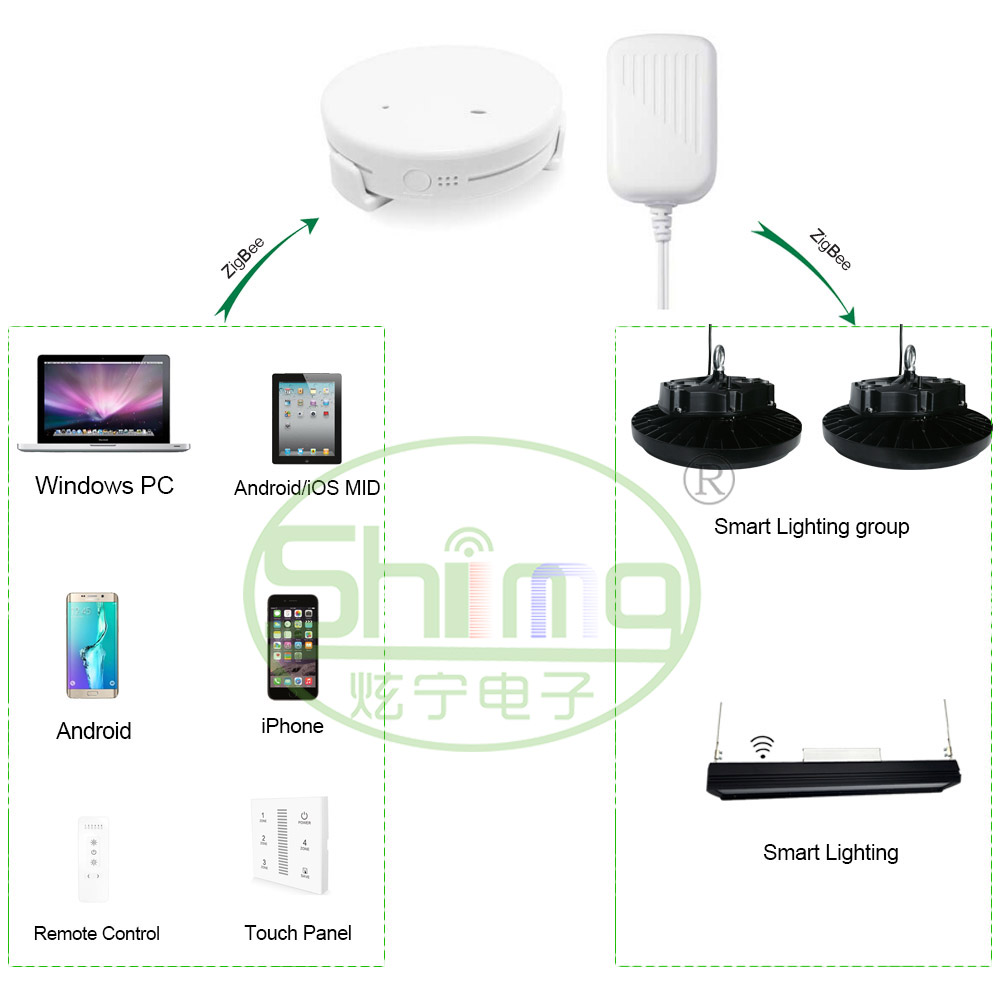 Remotely control systerm via internet
After connect zigbee gateway with wifi router, user use PC/MID/cell phone can achieve remotely control via internet/4G.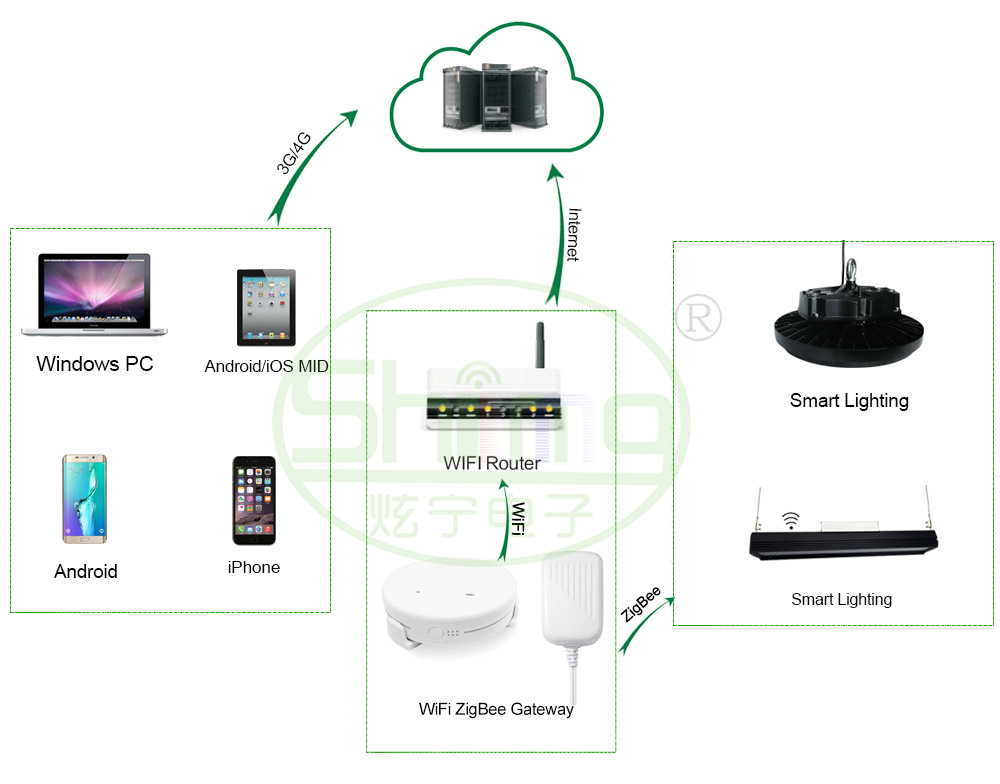 Scalable Architecture
Download the APP in apple store/android market,use this app to add the new lights through scan the two-dimension code of new lights ;no need to set new control wires.
Each smart light will have 5 pcs two-dimension code, one is on the light body, the remaining four as backup.The users can documentation management the lights according to the actual installation
Funtion of the systerm
1.all lights on/off
2.single group/ area/ light on/off
4.single group/ area/ light dimiable
5.single group/ area/ light time switch on/off
6.single group/ area/ light time delay switch
7.To bind all or part of lights with daylight sensor, can change the light brightness based on outside daylight status.
Software interface preview: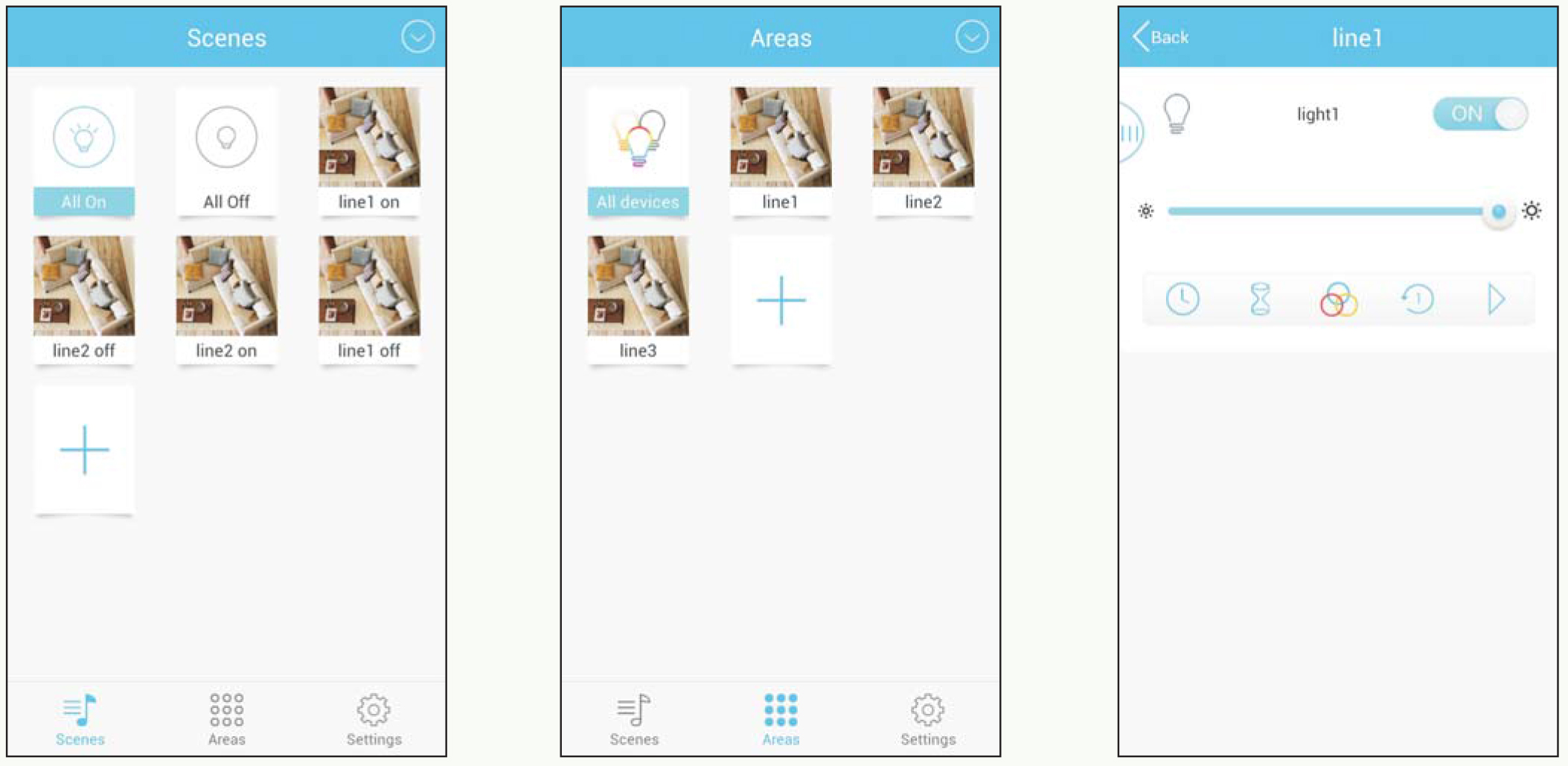 According to the latest market study released by Technavio, the global smart lighting market is expected to grow at a CAGR of more than 19% during the forecast period.
This research report titled 'Global Smart Lighting Market 2016-2020' provides an in-depth analysis of the market in terms of revenue and emerging market trends. This market research report also includes an up to date analysis and forecasts for various market segments and all geographical regions.
According to Sunil Kumar Singh, a lead analyst at Technavio for lighting research, "The demand for smart lighting in new buildings or structures is expected to witness high growth compared to pre-installed traditional lighting systems. Although the total ownership cost of smart lighting is much higher than traditional lighting sources governments worldwide are investing in and promoting smart lighting to reduce significant energy consumption, as lighting accounts for more than 20% of the global energy consumption."
---